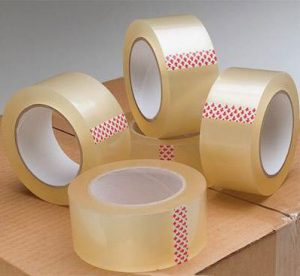 It is a pressure-sensitive tape used for closing or sealing corrugated boxes or for shipping and inventory management. It consists of a pressure-sensitive adhesive coated onto a backing material i.e: polypropylene which is a thermoplastic polymer (making it pliable above a certain temperature, and returning it to the solid state after cooling). Most often the Packing tapes are bi-axially oriented which is a PP film stretched to the machine and cross direction which increases the strength as well as the clarity of the film. The structure also makes the automated and manual application of the packing tape easier.
Due to it being a thermoplastic polymer, it could also work in higher and lower temperatures. Not all manufacturers provide tensile strength statistics but industrial grade packing tape should be able to bear longitudinal pressure of around 27 pounds per inch and 44 lbs. per inch, transverse.Its structure being rugged and high tensile makes it an ideal material for packaging and labeling. It is also resistant to abrasion, moisture and various chemical solvents. It is easy to coat, print and even to laminate, which makes it ideal for the manufacture of custom packaging tape. The material also offers minimal elongation (only around 150%, on average), and is burst-resistant making it easy to slit. The average application temperature range for 30-micron, standard thickness BOPP packaging tapes is between 35 and 110 degrees F while the operating temperature range is at 20 to 150 degrees F.
Most BOPP films are also non-toxic and therefore safe to use and eco-friendly. Some comply with environmental protection standards, and some are even made of recycled material. Most often, the tape is 48 mm (approx 2-inches) wide but it is also used in 72 mm (approx 3-inches) widths. After coating adhesive on backing material, the Jumbo roll is made which is further slitted on to a paper core having 3" inner diameter for making smaller widths and lengths as per requirement.
Most carrier or backing films have specs of 30 to 65 microns thickness. The standard-duty tapes typically have thickness of around 40 microns. Note that this already includes the carrier or backing film and the adhesive. Medium-duty packing tapes typically are around 43 microns thick. Heavy duty adhesives have around 48 microns (1 micron is 1/1000 of a Millimeter).
A variety of backing strengths and calipers as well as adhesive formulations are available. The Adhesive Tape family is as follows:


Acrylic adhesives are a good option. They do not bond as quickly as hot melt adhesives (it has decent initial adhesion but it features gradual adhesion buildup that require around 24 hours to achieve maximum bond strength), but they have better heat, UV and shear resistance. This type of adhesive is recommended for long-term packaging.
Hot melt/Rubber adhesives are one of the most widely used because of the consistent, reliable and quick seals. This kind of adhesive quickly bonds to the surface and offers high tensile strength, which make it one of the best choices for securing shipment. It could adhere well to various surfaces including film and fiberboard.
The size of the tape should be adjusted according to the weight and dimensions of the box/carton being sealed. The box must be intact with the material inside to insure maximum performance of the tape.
If a tape remains on corrugated box during recycling, a tape should be chosen which does not hinder box recyclability. For example, when taped corrugated boxes are recycled, film backed box sealing tapes do not hinder box recycling: the PSA adhesive stays with the backing and is easily removed.
BOPP tapes typically come in the standard colors – clear and brown, although manufacturers now offer them in various colors such as red, pink, orange, yellow, green, black, white, purple and blue PLAIN & PRINTED.